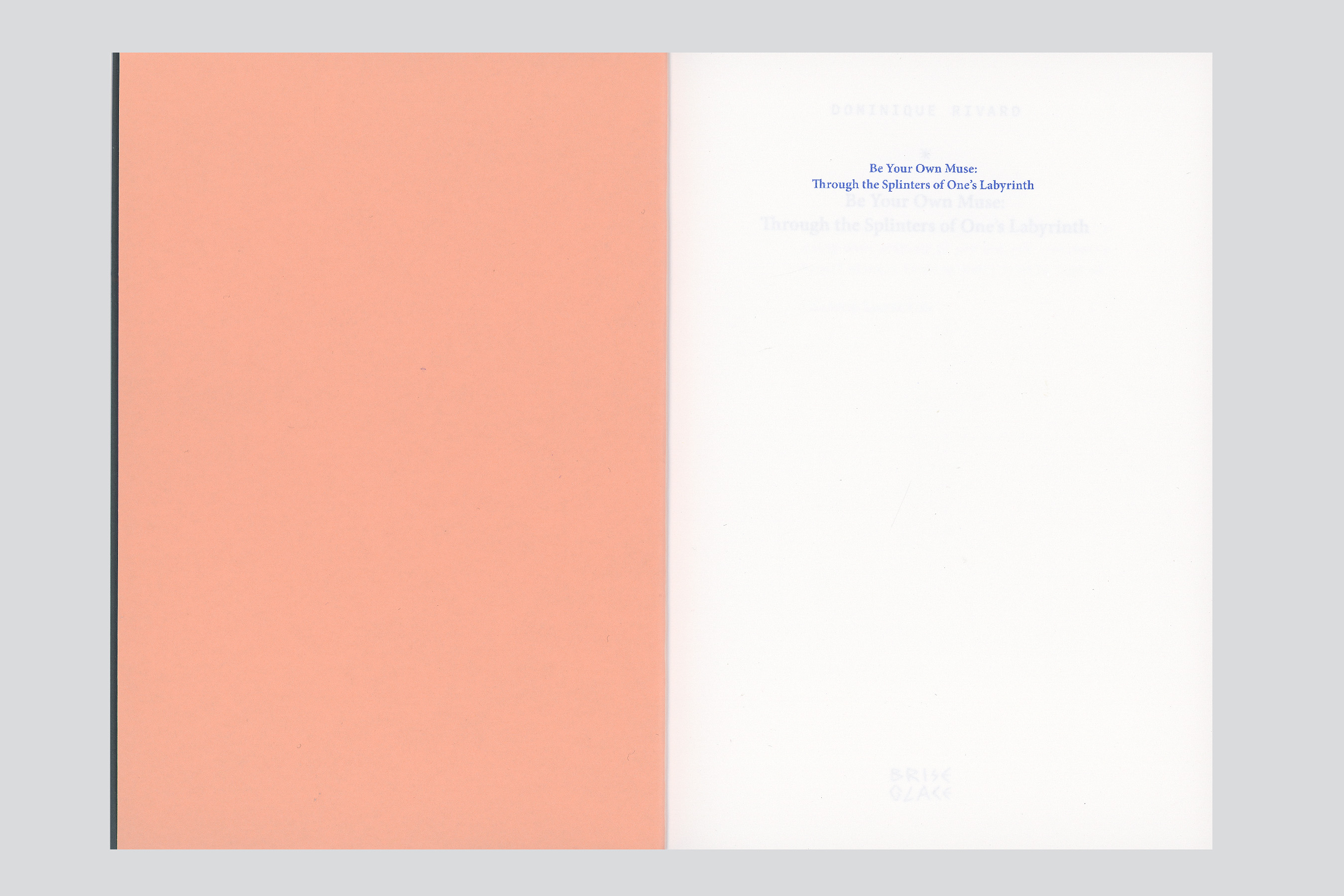 Be Your Own Muse


Be Your Own Muse: Through the Splinters of One's Labyrinth est un livre d'artiste, un journal de bord poétique, un essai littéraire et un manifeste féministe. Le texte, en langue anglaise, se penche sur l'autofiction par l'errance entre différents labyrinthes de glace, où l'écriture du soi et de l'autre se déploie via l'entrelacement de multiples voix féminines littéraires (Clarice Lispector, Jenny Hval, Rebecca Solnit, Nancy Huston, Marlen Haushofer). La publication travaille l'exploration des motifs de l'artiste par une fréquentation des solitudes, des spatialités, des géographies intimes et des territoires plus vastes, imaginaires et réels.

Texte et design : Dominique Rivard / Traduction :

Zoé Fauvel

/ Révision : Catherine Anne Laranjo / Nombre de pages : 106 / Format fermé : 5 pouces x 7 pouces / Typographie : Minion Pro, Atlas Typewriter / Langue : Anglais / Reliure : Allemande / Techniques d'impression : Risographie, impression numérique et letterpress embossé (couverture) / Papiers : Olin Design Rough High White 90gsm, Gallerie Gloss 115gsm, ColorPlan Racing Green 270gsm / Circulation : 300 exemplaires (numérotés) / Parution : Décembre 2021 — Glasgow
ENGLISH

BE YOUR OWN MUSE is an artist's book, a poetic diary, a literary essay and a feminist manifesto. The text, in English, questions the autofiction and the fragmentation of the self by wandering through different labyrinths of ice, where the writing of the self and the other unfolds through the interweaving of multiple female literary voices (Clarice Lispector, Jenny Hval, Rebecca Solnit, Nancy Huston, Marlen Haushofer). The publication explores the artist's motifs through a frequenting of solitudes, spatialities, intimate geographies and wider territories, both imaginary and real.